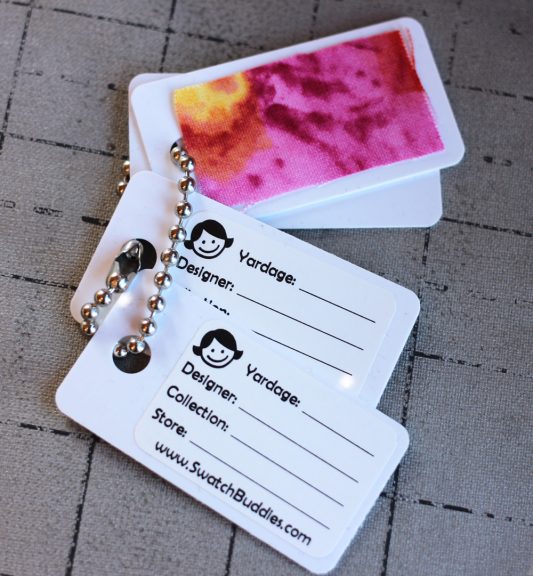 If you are anything like me, you have so much fabric in your stash that it's hard to keep it all straight! But, as we all know, new fabrics are a necessity in the wonderful world of sewing, and – let's be honest – half the fun is heading to the store and picking them out!
I was recently getting a project together when I realized I had a need for a few more fabrics. Before gathering my swatches and heading to my local shop though, I first grabbed this nifty little notion a sewing friend had given me called Swatch Buddies. This keychain-type gadget allows you to collect and store your swatch samples so you can easily take them with you – perfect for buying new fabrics or matching color samples on the go.
How it Works
On one side of the tag is a sticker that allows you to write in all the specifics of any given fabric: yardage, designer, collection, and store where you purchased it from. I like to add in the year my fabric came out as well.
The opposite side of the tag is blank – the perfect spot to adhere a swatch of fabric with a piece of the double-sided tape that comes with.
Each of the tags (there are 48 in a pack!) attach together on a keychain. You can use the whole lot or separate them out by project to keep everything organized. It's definitely more convenient for me to throw this little bundle of swatches in my purse rather than carry around a stack of fabric or scraps while I'm perusing the aisles of the fabric store.
I think I might even put them to use in my sewing room! They'd be a great tool to use to identify fabric contained in storage totes. No more rustling through a pile of scraps; the Swatch Buddy can easily identify which fabrics are contained within.
This little gadget is quickly becoming one of my favorite notions – an ideal solution for a fabri-holic like me!
Learn more about them and pick up your own set here.
Get in touch! Leave a comment or email editor@nationalsewingcircle.com.