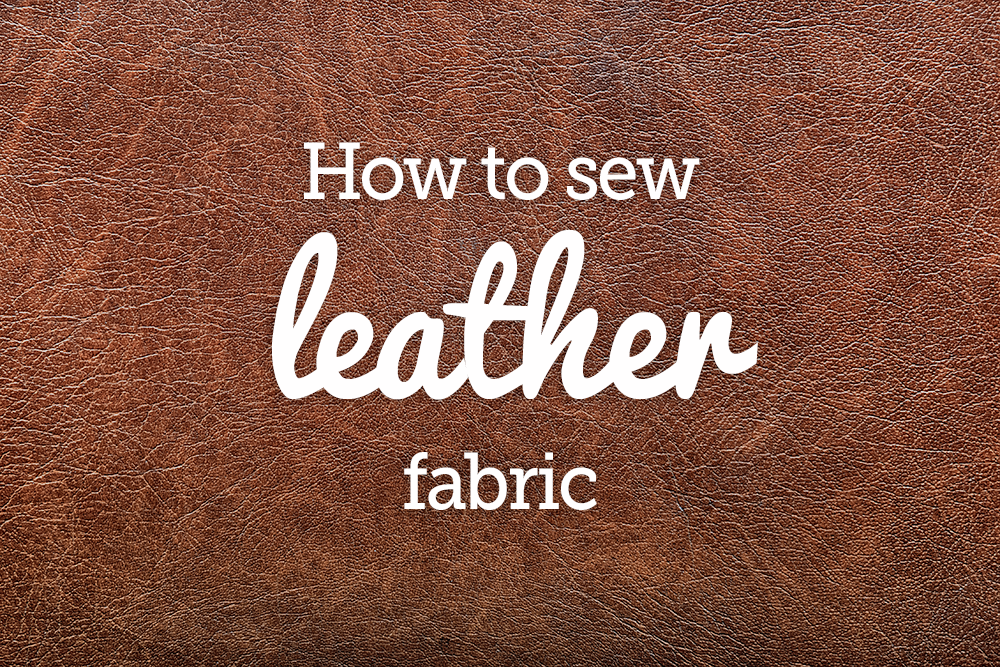 Sewing with leather takes some special consideration. Real leather is created from the skin of animals, primarily cattle, though other animals are sometimes used, including goat or sheep, or even exotic animals like ostrich and alligator. There are also very nice and realistic faux leathers available that are great to sew with, though real leather often has that supple and luxurious feel most people strive for, not to mention the smell!
The price of real leather can vary greatly depending on the quality, so it's important to consider the type of sewing project you will be creating when selecting your leather fabric. Real leather is usually sold by the "hide" which is often around 9 to 15 square feet, and it ranges in price as well. You can usually find leather for $25 to $100 per hide.
Related video:
Tricky Fabric Stitching Techniques
Since leather can be such a valuable fabric, you will want to be very careful when sewing with it. What follows are some basic tips for sewing with leather fabrics, both real and faux.
Considerations When Working with Leather
The nice thing about working with leather is that you can use your regular sewing machine, but you'll just have to take some extra precautions before you begin. You should always avoid using pins in leather since they will leave holes behind in the fabric. Instead, use paper clips, hair clips, or binder clips to secure the fabric without damaging the material. Remember that every hole you make in leather is permanent; you can't go back and fix a misstep. Related video: How to Secure Laminated Cotton or Oilcloth for Stitching

It's also a good idea to cut pattern pieces one step at a time, using a rotary cutter for most of the work. Practice on scraps of leather before your actual project, so you can best see how your stitching will show up. When you are ready to move to your machine, make sure you use a new needle for easier sewing. There are also special sewing needles made specifically for leather that help it penetrate the hide better.

When looking at the thread you want to use with leather, it's better to go with nylon or polyester. Cotton thread tends to degrade over time, so you are better off sticking to synthetic thread blends. They are stronger and more durable, especially polyester upholstery thread. These types of threads are exceptional to use in leatherwork, since they will hold up in the long run as the leather softens and gets broken in.

Another tip to think about is getting a walking foot attachment to put on your machine. This will help you feed the leather easier through the sewing machine.

Related blog: Specialty Sewing Machine Feet Options
Faux Versus Real Leather
Faux leather is usually made out of a fabric base that is manufactured with specific waxes and polyurethane to make it feel more like real leather. Sometimes people refer to it as "vegan leather" since it's not made from any animal products. "Pleather" is another term for faux leather, as it's an abbreviation for polyurethane leather. You can use the exact same tips to sew with any faux leather, since it behaves in much the same way. The upside is that this kind of artificial leather is usually less expensive than real genuine leather. It's more of a personal preference on what you want to use for your project.
Leather Projects to Try
When you are just starting out working with leather, you might want to begin with more basic projects. Work your way up to that fancy, complicated leather jacket you're dying to try. A few projects you can tackle are a simple leather purse, tote bag, or cosmetic pouch. As your comfort level grows sewing leather fabric, you can move into leather skirts, vests, or even adorable leather baby moccasins.
Once you get used to working with leather, you'll find that it's not any harder than sewing with cloth fabric. Plus, you can make some truly magnificent pieces with this hardy material!
Happy sewing!
Have something to add? Leave a comment or email editor@nationalsewingcircle.com.