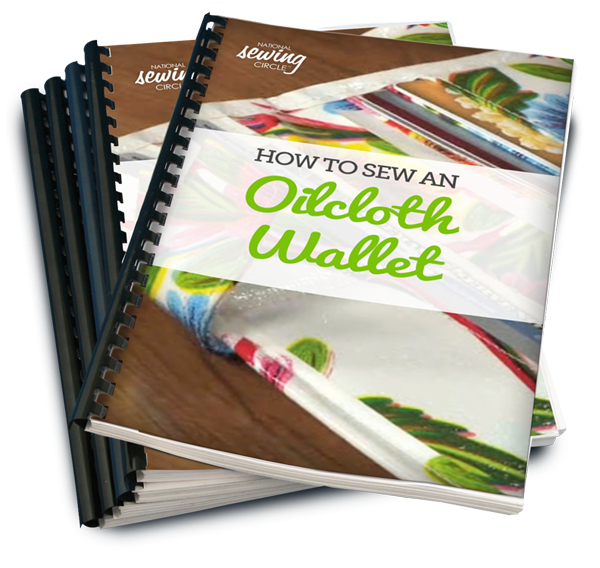 Sewing your own accessories is the perfect way to add style to your look and use up remnants of fabric that may be gathering dust in your fabric stash. Small accessories like wallets make great gifts for friends and loved ones too. You can even make wallets in a rainbow of colors so that you always have one to coordinate with your handbag! And with the link below, you can download a free printer-friendly pattern of our popular oilcloth wallet project, exclusively for members of the National Sewing Circle community!
Sewing with Oilcloth
This cheerful wallet pattern uses oilcloth, a durable, waterproof material. Oilcloth is stain-resistant and can be wiped clean of any splatters or smears that you may encounter in your day-to-day life. This project only uses a quarter of a yard of oilcloth, so if you run across a remnant in the fabric store bargain bin, you have just enough for the wallet.
Modern oilcloth is made from vinyl with a canvas-like, cotton-mesh backing. It comes in many cheerful patterns and bright solid colors. This oilcloth wallet pattern is an excellent choice for the fabric because you don't have to turn the whole thing inside out – the stiffness of oilcloth can make that difficult. This free oilcloth wallet pattern offers plenty of practical tips for handling oilcloth too. Even if you've never worked with such a heavy fabric, you can do it with ease thanks to the included sidebar tips. For instance, did you know that putting a piece of masking tape on the bottom of your sewing machine feet will make moving the oilcloth through the machine easier?
Click the link below to download your own copy of the oilcloth wallet pattern, and make sure to leave us a comment or share a picture on our Facebook page so we can see your own finished masterpieces! Happy sewing!