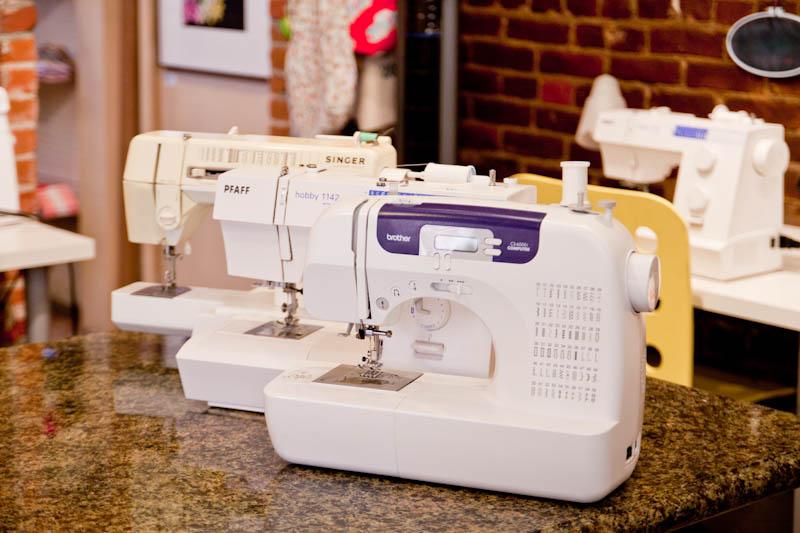 All it takes is one Google search to get overwhelmed by the amount of sewing machines that are on the market. How do you know which machine is best suited to your needs? What type of sewing machine should you buy? Well, let's talk about some of the essential features of sewing machines to help you narrow it down!
To Embroider or Not To Embroider?
Embroidery is an entire different facet of sewing, and it is incredibly fun! As soon as you set it up, you will be monogramming everything you make. So, the plus side of these machines is that they are a whole new hobby you never knew you wanted to start!
But, there are a few downsides too. First of all, they nearly double the price of the machine as it comes with a removable embroidery attachment (not to mention the designs that you need to buy a la cart) and the software you have to learn. So, if embroidery sounds fun, you've cut out over half the market already! If not, keep reading.


Digital or Manual?
You will easily be able to tell a digital machine from a manual machine, as the digital machines have some form of LED display showing you the basics, such as stitch length, width, and pattern. The manual machines have only knobs or buttons to choose your stitches. Some machines have one HUGE touchscreen and nothing else! Here are a few benefits of each:
The digital machines take care of many small tasks for you, such as raising and lowering the foot, raising and lowering the needle, cutting the threads, etc. When all of these things are done for you automatically (or as I like to put it, automagically!), you get to stop paying attention to your sewing machine and focus on your sewing! Projects get done faster and easier. Most of these machines even remind you to lower your foot if you have put it up manually. Ah, the digital age!
The downside of digital machines, of course, is price. The more fancy stuff you have packed into that wonderful machine, the higher the price can get. There can also be a pretty high learning curve, especially if you get a full touch-screen machine. It's very similar to buying a new smartphone with an entire new operating system you are completely unfamiliar with, which is usually accompanied by some frustration. So, be sure to take a deep breath and expect to learn slowly but surely. Odds are you'll love it in the end!
But, don't forget why you are buying it. If you really just want to sew, both the digital and the manual machines achieve the exact same result. The feed dogs move the feet forward, the needle goes up and down, and the backstitch secures your threads. One just requires you to do a little more work!
Cheap or Expensive?
So you went to Walmart for toilet paper and a hallway runner, and you left with an $89 sewing machine. Congrats! You finally own a machine! These very inexpensive machines are a great way to get introduced to sewing. They are affordable and lightweight, and you can take them over to your mother's house and demand she show you how to use it. (Lots of us have been there!) But, don't get too attached. These machines are 90% plastic parts and it is inevitable that it will break, especially if you plan on sewing more frequently than an occasional hem job. These are what we call "throw-away" machines.
So, how can you tell the difference between a throw-away and high quality machine? Pick it up! If you can easily lift it with one hand, chances are it's made out of almost all plastic. If it is heavy as all get-out, it's built on a metal chassis and will last you for 20 years instead of two. Most of the machines built on metal chassis start at $300 though, so again, you have to decide what sort of investment you really want to make and how long you would like it to last.
New or Used?
There is no question that vintage machines are making a comeback in popularity. So if you're out garage sailing and come across an old Kenmore that's covered in dust but the flywheel moves pretty good and they only want $25 for it, my opinion would be to get it! But, be prepared to spend some money getting it cleaned; cleanings can range from $80 to $150. Most machine repair folk will take it apart and call you if it's not in working order, and then they won't bother to clean it. The downside if this happens? You're out $25.
But, if your new treasure is in working order and all it needs is a good cleaning, then you have an all-metal machine for a much smaller investment than a brand new all-metal machine! And as we've learned, the machines built on metal chassis can start at a pretty high price. So, hit those thrift stores!
Test Drive!
My best piece of advice for those looking for a new machine is to always test drive. Find a specialty Sewing and Vacuum store, sit down, and play! Some of the more expensive machines might feel kind of clunk at first, and you may find that a manual machine has a bit more finesse. You never know until you try!
Play around, and consider your budget and overall functionality needs to narrow your options down to an affordable machine. I would also suggest investing in their care and service plan as it usually covers annual cleanings and lubricating – machines dry out with use!
When you find the right machine, you'll get the butterflies, and you'll know it. There are many options out there and you will find the perfect one for you!
Related Videos:
Sewing Machine Maintenance Tips
Get in touch! Leave a comment or email editor@nationalsewingcircle.com.