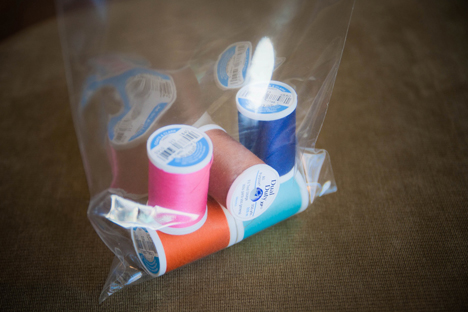 I come from a long line of sewists and seamstresses. In fact, my great grandmother used to sew costumes for the San Francisco Ice Capades! I even have the very machine she sewed them on. I was lucky enough to get a lot of her old sewing stuff, including French curves, boxes of buttons, and a hat box full of beautiful, old thread.
But when I went to use the thread for the first time, it just kept snapping and breaking and I was so sad that I couldn't put her thread to use. I shared my plight with my mom, and she assured me that the thread was still perfectly useable but it just needs a little TLC.
I live in Colorado, and it is incredibly dry here. In fact, if you live in any dry climate like Colorado, I recommend regular maintenance and getting your machine professionally cleaned once a year even if you use it infrequently. The lubricants in your sewing machine evaporate quickly in a dry climate and need to be changed yearly to prevent damage. But, that's another story. Back to thread!
Thread that lives in a dry environment tends to dry out also, becoming brittle and prone to breakage. Here in Colorado, even brand new thread right off the shelf at your local sewing shop can break if it has been on display for awhile. Older thread, such as my great grandmother's, tends to lose moisture over time and simply needs a little moisture to make it usable again.
My mom's suggestion? She told me to take the thread and tuck it into a re-sealable baggie along with a wet paper towel. I was then to place this in my fridge or freezer for a few hours and let the thread soak up some of the moisture. And so I did!
After letting it come to room temperature in the baggie on my countertop, I tested the thread out and – ta da! – was thrilled to see the thread was usable again. After that, I was able to successfully make my first project using my great grandmother's thread.
And that is truly keeping her sewing legacy alive!
Related Videos:
How to Prevent Sewing Thread Breakage
Different Types of Thread for Sewing
Tips for How to Buy Fabric, Needles, and Thread
Choosing the Best Serger Thread
How to Thread a Needle with Ease
Sewing Threads by the Numbers
Threading a Sewing Needle with Chapstick
No More Tangled Thread
Tips for Threading a Serger
Get in touch! Leave a comment or email editor@nationalsewingcircle.com.