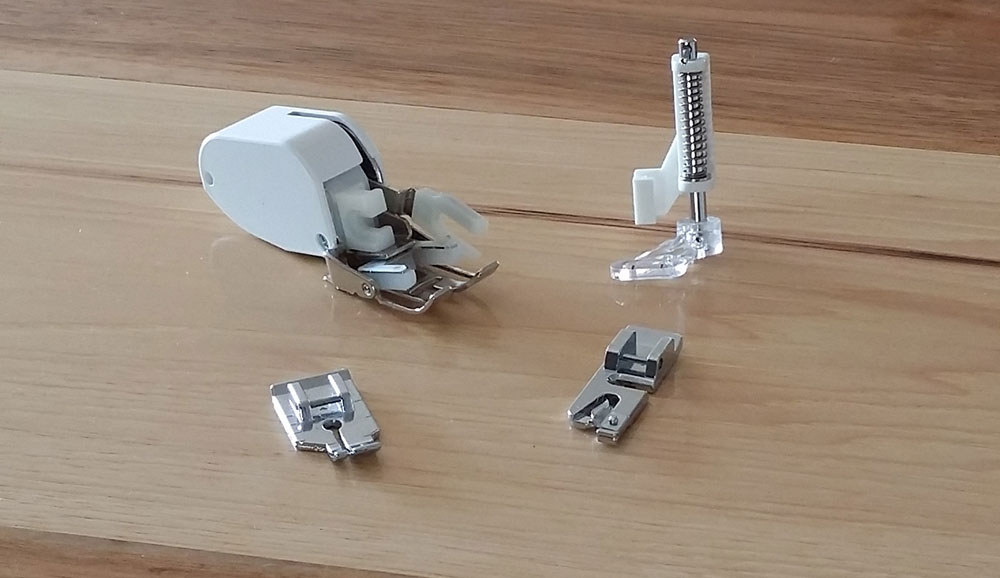 When you purchase a new sewing machine, there are often several common presser feet that come standard with your machine. For those looking for more options though, there are a wide variety of more uncommon sewing machine presser feet that can be purchased separately and used for other specific tasks.
If you do a lot of quilting you may have purchased several different feet that make both piecing and quilting easier. The first of which is a quarter inch foot. This foot allows you to easily and accurately line up and stitch a ¼" seam allowance, which is standard for quilting. Another foot commonly used with quilting is a walking foot. Depending on the brand this can be a much larger presser foot as it is used to feed several layers of fabric evenly through the machine while sewing by pressing on both the top and bottom of the fabric layers.
Related blog: Why You Should Use a Walking Foot for Quilting
A darning foot, also called a quilting or free-motion foot is another presser foot that can be purchased separately. A darning foot typically has an open toe design which makes it much easier to free motion quilt as there is no metal or plastic obstructing your view of the fabric.
Sometimes it is not a sewing technique that requires a special foot but the type of fabric being sewn. Sewing with oilcloth, laminated cotton, and types of vinyl can be tricky with a metal or plastic presser foot as it can tend to stick to the fabric. A Teflon presser foot, sometimes called a non-stick presser foot, easily slides over the fabric making it much easier to work with.
If you do a lot of garment or home décor sewing you have probably sewn your fair share of hems. While a standard presser foot works well for single or double fold hems on medium to heavier weight fabric, it can be difficult to sew lightweight or sheer fabric. A rolled hem foot can be used to create a narrow, even hem along lightweight fabrics. This foot has a rolled piece of metal in the center of the foot that rolls the fabric right before it is stitched, making creating a rolled hem as easy as stitching a straight line.
When it comes to specialty presser feet that can be purchased separately, this list is just the beginning. If you ever find yourself struggling with a certain stitching technique, consider looking to see if there is a presser foot that can make it easier.
Happy sewing!
Related blog: Common Sewing Machine Feet and When to Use Them
Have something to add? Leave a comment or email editor@nationalsewingcircle.com.