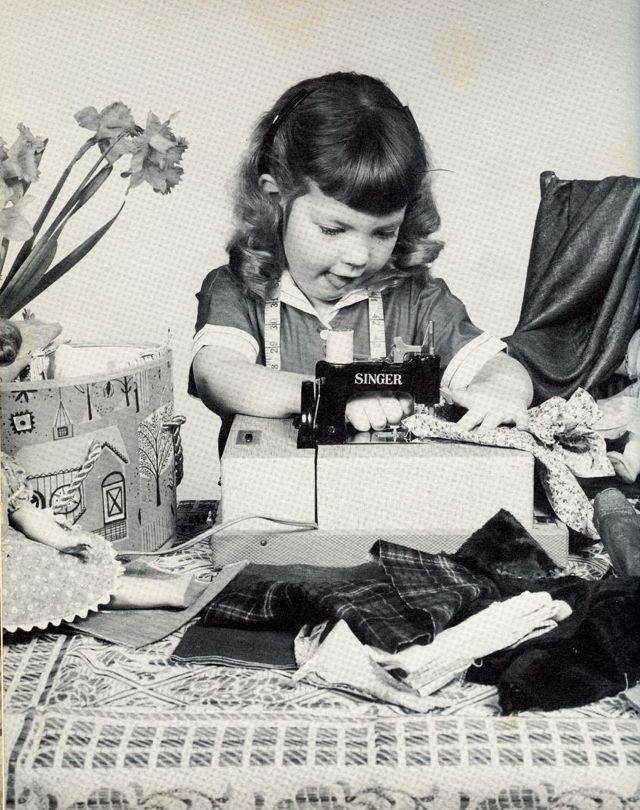 Sewing is such an important part of our lives and most of us have been doing it for many years. There's nothing better than thinking back to the beginning, when we learned the ins and outs of our favorite craft. These moments are special to many of us because through sewing we developed special relationships with our family and friends.
We were curious about when our members first started sewing, so we asked the question on Facebook. Here's a taste of our favorite responses!
"I would use fabric scraps, old socks, sweaters, and shirts to make doll clothes. I stitched by hand and at age 6 and I had a toy machine that worked! It was similar to the one in the picture. So excited, I cried when I got it. I also helped my grandmother and mother quilt. At age 12, I made my first outfit without any assistance. At age 15, I was sewing for the public. Age 16, made my first set of pleated drapes. First real machine I used was a pedal singer machine and then an electric singer"
– Aleisa
"At 6, I was hand sewing dishtowels and doing embroidery on pillowcases At 8 or 9, I was allowed to use a sewing machine and I really can't remember a time where I didn't sew one way or another. My Mother and Grandmother both knitted and crocheted. I wish I had learned but I'm left handed and it was a real chore to teach me and ALOT of patience Lol."
– Judi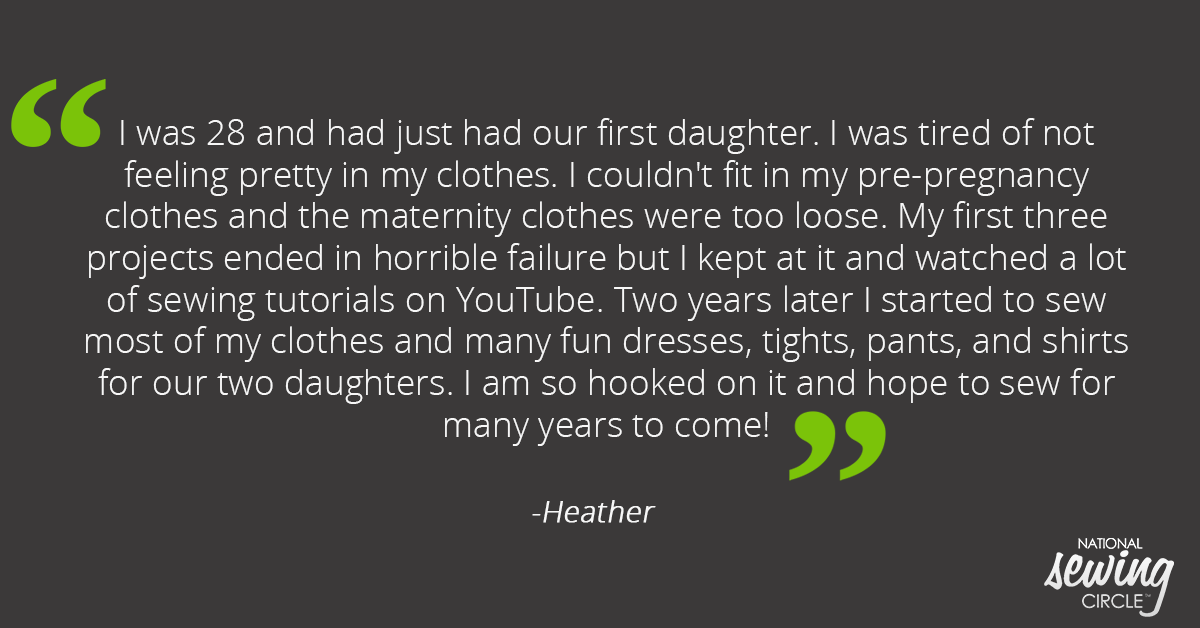 "Basic sewing when I was 11. Later I learned to read patterns in school. After High School, I worked at a custom sewing shop for almost 2 years. Now, I've been working in a sewing plant for 21 years and have my own custom sewing and alterations. I've been quilting in my home for 20 years."
– Sylvia
"Around ten years old. I would make outfits for my dog to wear by hand sewing them…lol. I learned on a sewing machine when I was about 13. I still love to sew 50 years later."
– Robin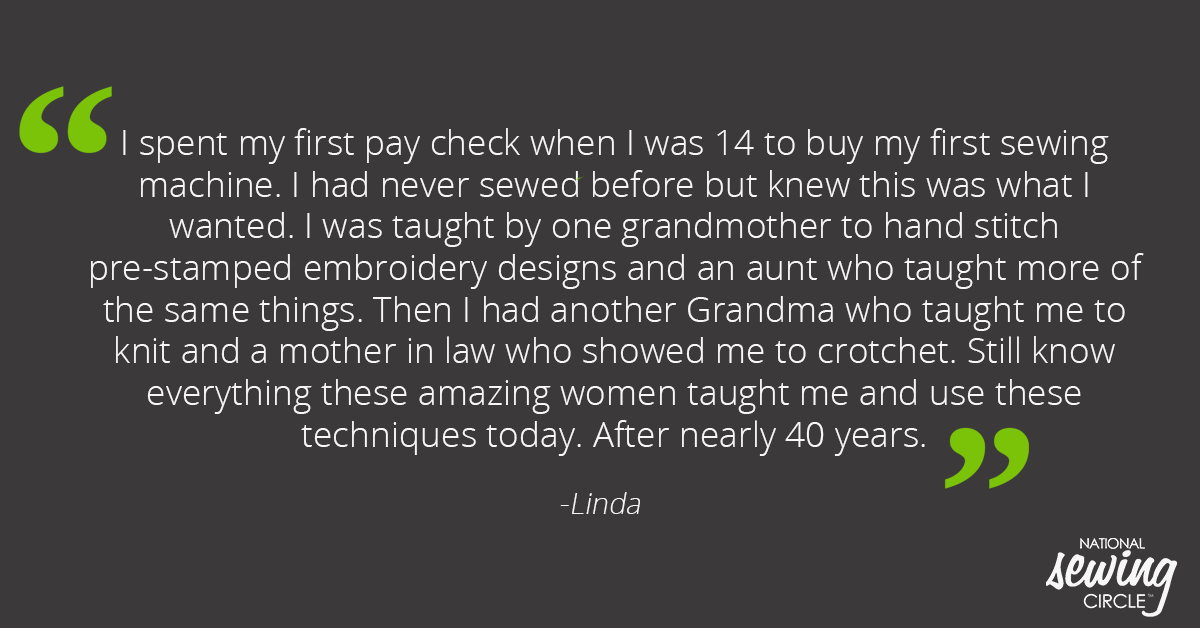 "I started sewing with my Grandma when I was very young! I can't remember my age, but she had me sitting at her machine when I was a toddler. She was a lady of great knowledge & faith. I'm so thankful for every second with her."
– Jan
"My first sewing experience was with a needle and thread, learning how to embroider by my best friend's grandmother. We embroidered dish towels for our Moms for Christmas that year. I was probably around 8 years old."
– Janet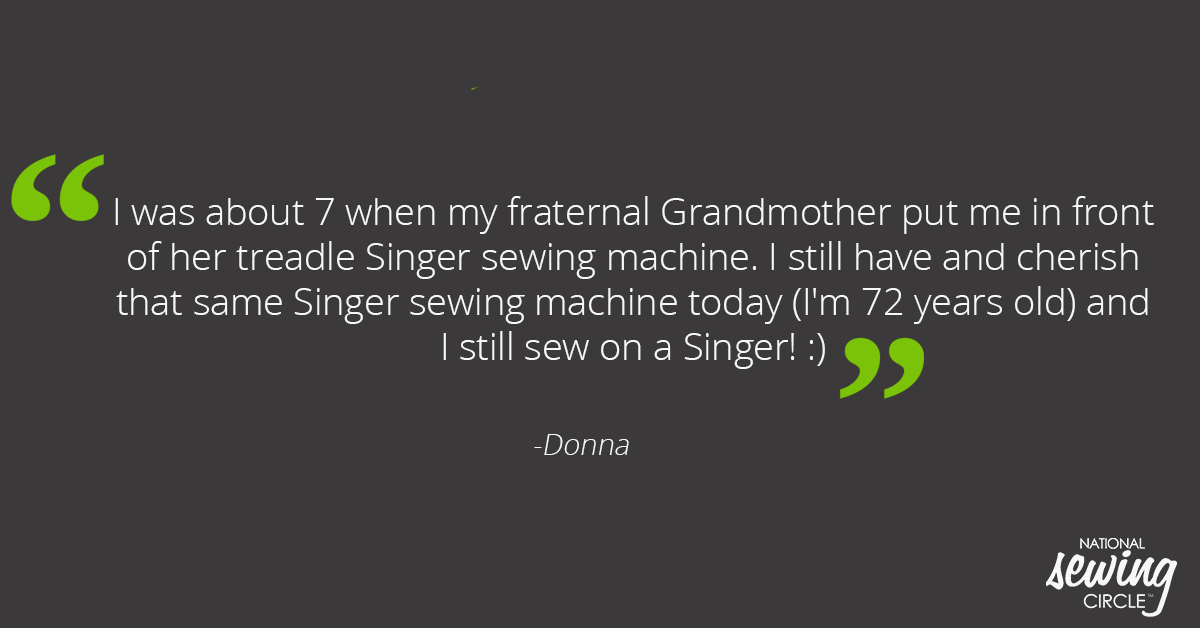 "I was about 12 and learned in home economics. I was given my first Singer machine for Christmas that year. Between my books; my sewing machine; knitting and my 45's I think I had the best childhood ever."
– Sandra
"I started sewing at 12 in home economics, where we made a simple skirt with elastic. Next project was an A line with a zipper. I went on to embroider, crochet and at home my mom would let me use her sewing machine. However, I wasn't allowed to touch the tension (lol), nor could I cut paper with her sewing scissors…good times :)"
– Catherine
"I started sewing when I was 9 years old and joined 4-H. By junior high and home ec, my first skirt had a waistband and zipper and I got an A+."
– Donna
"I was hand sewing before kindergarten and machine sewing at 8 yrs old. Still sewing every day at age 61 and loving it. yay!!"
– Nancy
"1972 – 7th grade home economics – biggest project a baby blue skirt and jacket. The skirt was longer on 1 side, the jacket had 1 sleeve longer than other, I got an A+ and wore it proudly. Others made tank tops or kitchen towels. Overachiever."
– Deborah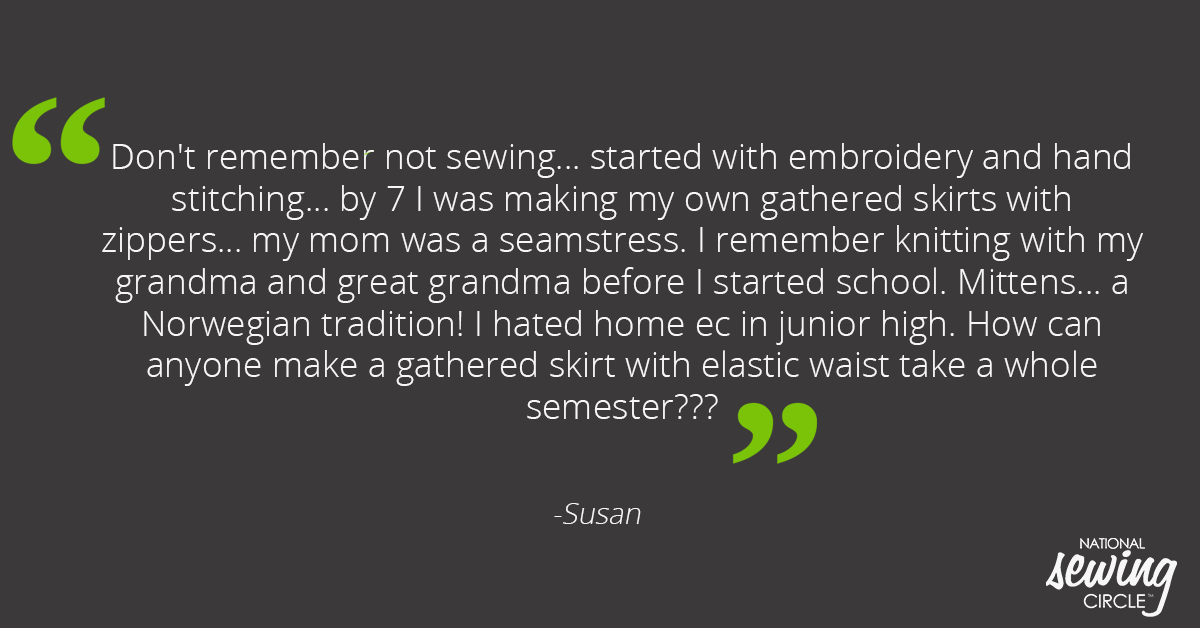 "Wow, I feel like odd woman out. I didn't start sewing until I was in my 60s. I'm 69 now. I was just retired and bored so I decided to start learning all those things that my mother had been too busy to teach me."
– Melinda
"I was 24! My mom always made my outfits when I was little, so I wanted to keep the tradition alive in case I have kids. Haha! I use my great-grandma's Singer 401A and love it sooo much!"
– Tiffany
"I was about 4 when I got my first toy sewing machine. That was the beginning of my love affair with sewing and machines."
– Barbara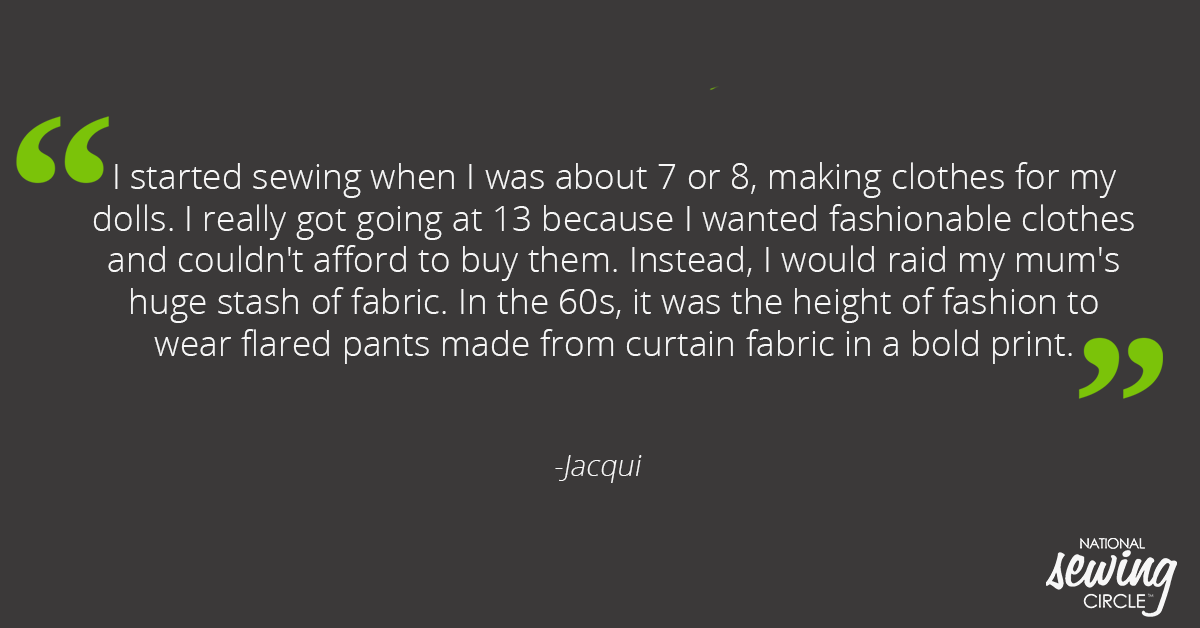 "Love, love, love that little tongue sticking out in deep concentration… My mom taught me to use the treadle as soon as I could reach the pedal – around the age of 8."
– Mavis
"I was 8. I wanted Barbie clothes and my Grandma had a basket of quilting scraps."
– Pam
Now it's your turn: when do you start sewing? Let us know in the comments!