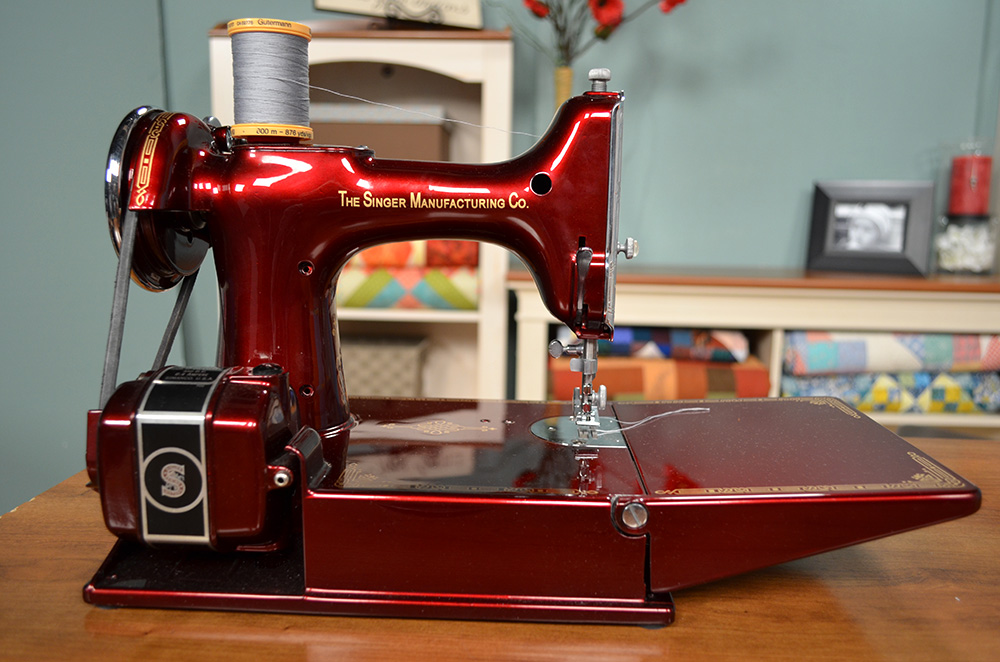 Buying a sewing machine can be intimidating, whether it's your first one or you are looking to upgrade. There are hundreds of models under numerous brands that all have something different to offer. Here are some things to consider when buying your next, or first machine.
What is Your Skill Level?
Understanding your skill level is important when buying a sewing machine. If you are a beginner who is buying their first machine, select a beginner type model. More advanced machines come with many extra features that may be intimidating when first starting out. Many sewing machine company sites have their machines categorized as beginner, intermediate, or advanced, which can help narrow the amount of machines in your search.
How Often Will You Use the Machine?
Knowing how often you'll use your machine is important when selecting one, especially if you are a beginner. If you plan to use it a lot and you buy a very basic machine, you may outgrow that machine quickly and be back in the market for a new one.
What Do You Like to Make?
This is something many people don't think to consider when looking at how to buy a sewing machine. If you are in the market for a sewing machine you obviously want to sew, but you may also want to do quilting or embroidery. While you could buy a separate machine for each task, there isn't a need for that. Many machines are multi-purpose and will allow you to do some aspect of all three.
How Much Are You Willing to Spend?
Sewing machine costs range from $100 to the cost of a small car. Knowing how much you are willing to spend on a machine is something to determine before you start looking. As a beginner, the cheapest isn't always the best option especially if you plan to use it often. Having an amount predetermined will help keep you from being overwhelmed by expensive machines and also help you see that you may be able to get a machine with several extra features and still stay within a certain price point.
Computerized vs. Mechanical
Today it is not uncommon to find a sewing machine that has a USB port, a tablet-like touch screen, or even WiFi. While these are great features to have, some people prefer pushing buttons or turning dials. Most machine companies offer machines in both categories and will even have them sorted on their site. Knowing which type you prefer can help narrow your search when buying a sewing machine. If you are unsure which type you like, find the nearest local dealer and try them out.
Where to Buy a Machine
While you may be able to find a good deal on a machine at a local big box store, it may not be the best place to purchase it. Buying a sewing machine from a dealer will not only get you the machine but also advice and assistance. A dealer can give you sewing machine buying tips to help you narrow down the selection. Dealers can also show you how to use a machine and allow you to try them out before buying them. Some dealers even offer small classes on how to use the machine and are available after your purchase to answer any questions you may have. Dealers sometimes even offer trade-in programs, so you can feel confident that if you outgrow your machine you can go back and get a new one. Even if you buy from a dealer you can still begin your machine search online and then find the nearest local dealer.
Features
Now that you know what to consider when learning how to choose a sewing machine, it's time to look at features. The following is a sample of some basic features that can be found on many machines and some that are brand- or machine-specific that might be something you want to consider adding on.
Automatic Needle Threader
Whether you're new to sewing or you're a seasoned professional, everyone has trouble threading a needle at some point. Many machines now come standard with some kind of automatic needle threader. How to use the needle threader may vary by machine, but in general it can be as simple as pulling down on a lever. If you're in the market for a high end machine and an even easier way to thread a needle,
Bernina
has a machine that offers fully automatic threading at the touch of a button.
Stitch Selection
If you are new to sewing, knowing exactly what stitches your machine offers can be helpful. Most machine manuals have a complete list of stitches, but it can also be helpful to have the stitches posted on your machine for easy stitch selection.
Fabric Feeding System
If you plan to do quilting or any sewing with bulky or tricky fabrics, your machine may need a walking foot or other fabric feeding system to aid in stitching. Many machines come with a walking foot that can be attached to your machine, or it can be purchased separately. If purchased separately, ensure you buy one that is compatible with your machine.
You can also find machines that come with a fabric feeding system that is quieter and less bulky than a standard walking foot.
Janome
offers a machine with an AccuFeed Flex Fabric Feeding System that allows you to easily sew or quilt through multiple layers.
If you think you may need a fabric feeding system often and don't want to continually put on or take off a walking foot, consider a machine that has one built-in.
Pfaff
offers an Integrated Dual Feed system on their machines that can be engaged or disengaged when needed and aids in sewing anything from stretch knits to multiple layers of thick fabric.
Error Message
If you are new to sewing or just new to a certain machine it can be frustrating when the machine doesn't function properly. Having a machine that tells you what the problem is can be a big help. Some machines will give you an error code that you then have to look up in a manual, while other machines can display complete sentences that tell you exactly where the issue is.
Buttonholes
If you plan to do any kind of garment sewing you may eventually need to sew a buttonhole. While you can manually sew a buttonhole, buying a machine that has an automatic buttonhole feature can save you a lot of time if you plan to sew a lot of them. Buying a sewing machine may be intimidating, but it's also a fun and rewarding experience. If you just bought your first machine, you are in for years of creating, learning, and growing more and more confident in your sewing skills. And while this may seem like a lot of information to consider in the beginning, finding a machine that you like and want to use can make sewing that much more exciting. Happy sewing!

Related Links:

Tips for Buying a Sewing Machine How to Choose a Sewing Machine

Have something to add? Leave a comment or email editor@nationalsewingcircle.com.