We may be nearing the end of the Oh Sew Fun Sewing Challenge, but we are definitely not slowing down! Our next project for week #7 is a fun one: quilted hot pads!
While some people classify themselves as sewers and some as quilters, I say you can absolutely be both! If you understand the basics of sewing you can definitely piece a quilt and if you know how to quilt you can absolutely sew – that is why I chose this project. In this week's tutorial you will learn how to string piece, or simply sew strips of fabric together on a piece of muslin to create the front of your potholder. From there you will see how to layer it with a backing fabric and a special batting to make it more heat resistant.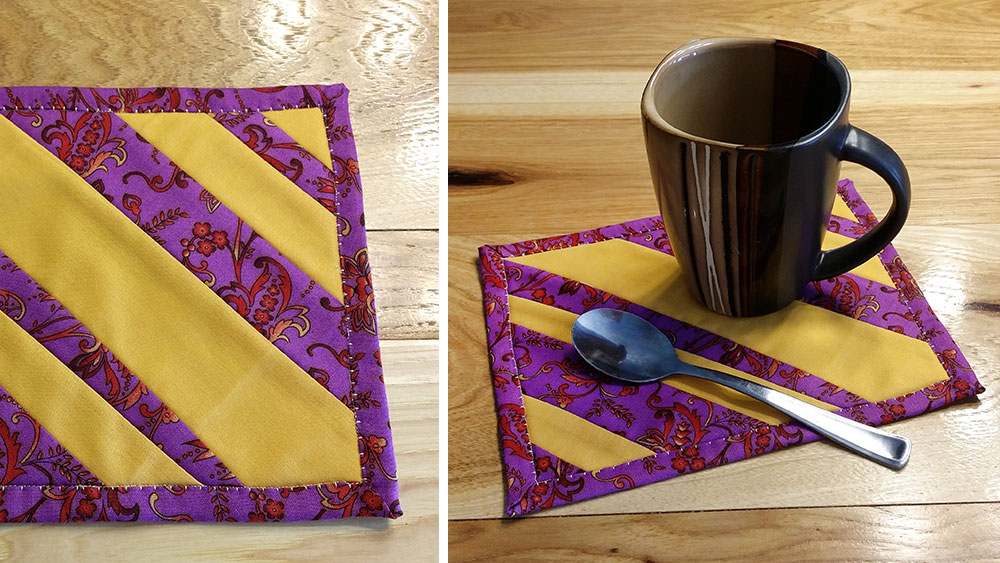 This is a great project for using up small scraps of fabric, so if you have any leftover from all of our previous weeks, feel free to use them on this one (except the laminated cotton). Any you don't use this week can be used on next week's project too. As shown in the tutorial, once you understand the construction you can make this project in any size or shape that you want. I chose to make a long rectangle that I could use as both a hot pad and a mug rug!
As always, once you've finished your project for this week, make sure to share a photo with us in the Facebook group! I love seeing all your wonderful projects each week!
– Ashley
If you haven't yet already, make sure to officially join the challenge so you can get each week's project delivered right to you inbox.

Ready for the next project? Here's what's coming up next:
Fabric Embellished Greeting Cards