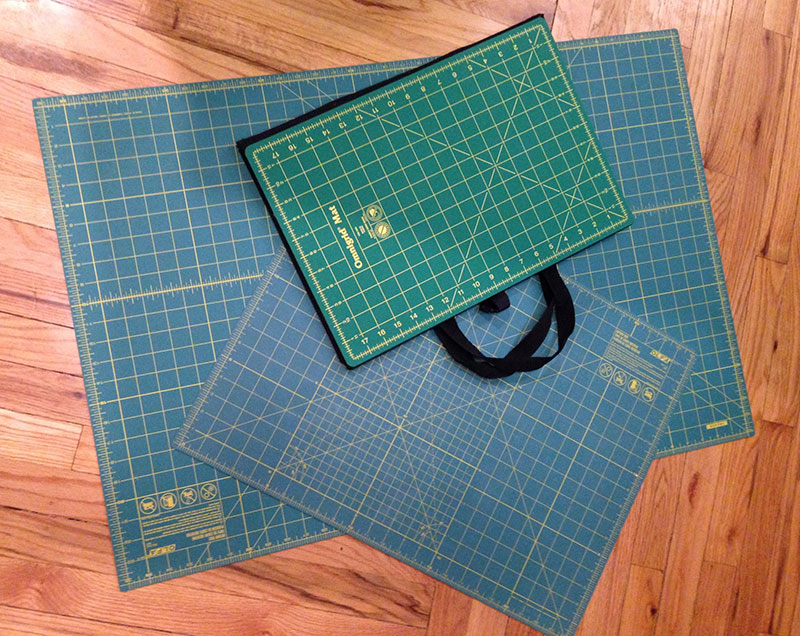 If you do a lot of sewing, you know that a rotary cutter is a must-have. But if you use a rotary cutter, you'll also need good quality cutting mat made for that purpose to keep your surfaces intact, your fingers safe, and your cut lines perfect.
How to Buy a Cutting Mat
Cutting mats come in all sizes, so measure the space you work in the most and get one that fits well. They also come in a few different colors and grid/line mark-ups, so take a look at all your options before buying. Be sure to get one that is self-healing with at least a ruler grid.
Personally, I prefer the mats that are 24" by 36" that include bias angle lines. This is a great size for most projects and makes it easy when you want to see how many yards of this or that stashed fabric you have (since 36" is a yard). I started out with an 18" by 24" mat, and I still use it on occasion; especially if I am sewing somewhere other than my house. (Sew-dates with your crafty BFFs are always a great time!)
Other Uses for Cutting Mats
If you're not interested in making an investment in a cutting mat just yet, know that cutting isn't the only task you can do with it. I use my mat for lots of different things. It's also nice to do your pinning and marking on a mat. This protects your table or counter from getting scratched by pins or accidently marked on. For really big projects, I will also take both my mats to the dining room table and lay them side by side for an even larger work space.
They also make these handy portable cutting and pressing stations that have a cutting mat on one side and a surface for ironing on the other. These are wonderful if you are limited on space or sew on the go often. If you have a dedicated sewing area and want to make the investment, there are even companies who will make custom sizes for you. (Oh yeah, my dream sewing studio would have a table-sized mat for sure!)
Want more beginner sewing tips? Check out this article: Essential Sewing Tools and Supplies
Have something to add? Leave a comment or email editor@nationalsewingcircle.com