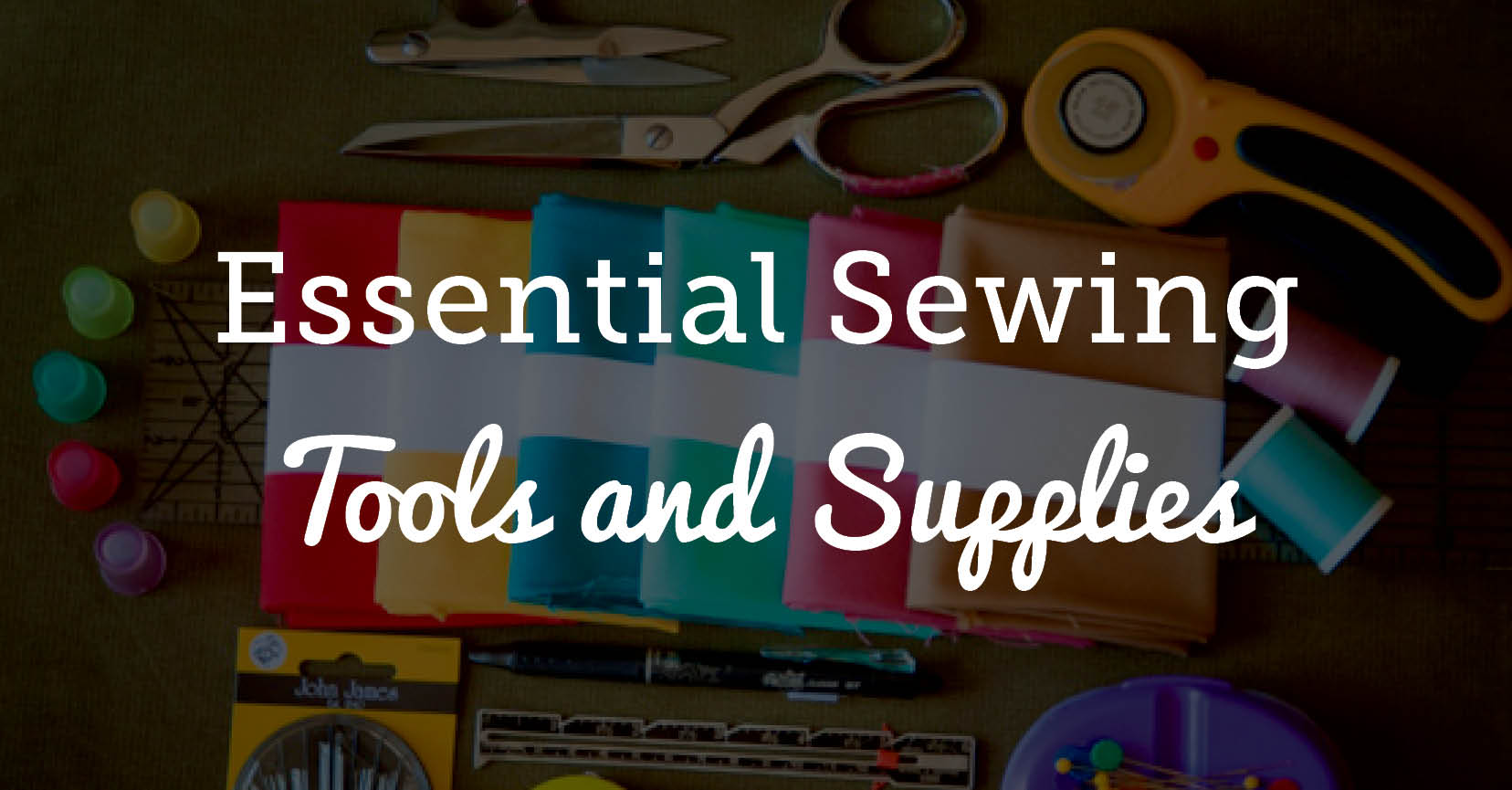 So, you want to learn to sew? Welcome to the wonderful world of it! Sewing feeds that creative side we are all missing in our daily lives, plus it's a natural stress reliever.
Well, unless you are a beginner that is. If you're not quite sure where to start, it might be a little daunting or stressful at first. What should I do first? Where do I dive in?
I recommend first assembling your trusty sewing toolbox. (Or basket, or box, or drawer – whatever.) Arming yourself with the right tools will make it so much easier to dive into that first sewing project or learning that first sewing technique.
Here's a list of the essentials you'll need to kick start your sewing habit (listed in order of how the items appear in the photo above):
1. Thimbles. Yes, I know you bought your sewing machine with the INTENT of never hand-sewing again, but you will be surprised how often you will use it. When replacing a button on thick fabrics for example, it helps to have a thimble handy to help push the hand-sewing needle through the fabric. (Dill Buttons' Jelly Finger Thimbles, $1.95)
2. Hand Sewing Needles. They come in different sizes and in multiples (in case you lose several, like me). Even though I am a pretty darn good quilter, I still seem to miss at least one mitered corner on my binding so I am always hand-mending a corner. (John James Hand Sewing Needles, $3.10)
3. Fabric. This is my absolute favorite shopping item! Don't forget to pre-wash your fabric before you start cutting, especially if you are making an item that will be washed over and over, like a quilt or a garment. (Quilting Weight Kona Cotton Solids, $6 – $9 per yard)
4. Thread Snips. These are a luxury item! Although you can use the larger-handled scissors to trim your threads, these sharp little nippers get extremely close to the fabric so you can cut your beginning and end threads as close to the fabric as possible. Hint: squeeze them close to the sharp tips like tweezers for the best cut. (Gingher Sharp Nipper, $30)
5. Dressmaker Shears. Your cutting tools might be the most important tool in your arsenal. You can get less expensive scissors for around $15, but usually they cannot be sharpened. Look for a pair of shears that have a screw holding the blades together so they can be taken apart and sharpened at your local fabric shop. (Gingher 8" Dressmaker Shears, $39)
6. Marking Pen. Chalk pens have been the traditional tool for marking on fabric, and those still work great and are easy to find. Now, technology has brought us iron-off pens to get rid of the lines without even washing. (Frixion Iron-Off Clicker Pen, $2.95)
7. Sewing Gauge. This little slide ruler is so handy in figuring out seam allowances and doing small measurements throughout your project. A staple! (Sewing Gauge, $2.49)
8. Tape Measure. Not only is this handy in measuring your cut fabric, but it is also important to have a flexible measuring tape to measure yourself with! (Flexible Retractable Measuring Tape, $1.50)
9. Seam Ripper. You will very quickly develop a love/hate relationship with this little tool. Be sure to check your sewing box before purchasing one; chances are your sewing machine came with one. (Seam Ripper, $1.00)
10. Magnetic Pin Caddy. The magnetic caddy makes it easy to pull the pins as you are sewing and toss them near the caddy – it will suck the pin right up! It's also great when you knock all of your pins on the ground and need to gather them all up. (Guess how I learned that one?) And of course, I MUST have pins with cute little heads on them, like flowers and butterflies! (Butterfly Pins, $5.99, Quilters Flat Flower Head Pins, $5.99, Ultimate Pin Caddy, $14.99)
11. Rotary Cutter. Ah, the joy of straight lines. Coupled with a cutting mat (not shown) and a ruler, this tool can be your best friend. It's like a pizza cutter for fabric! Great for long straight lines and for cutting up your quilt squares. (Olfa Ergonomic 45" Rotary Cutter, $30, Olfa 18" x 24" cutting mat, $32.99)
12. Cutting Ruler. These are great for cutting those long straight edges with your rotary cutter, and the clear aspect helps you do smaller cuts by lining up the edge of the fabric with any of the lines on the ruler. This one shown has a lip edge; when used with your cutting mat, you can drop the lip over the edge of the mat, butt it up right against the mat, and it will act like a T-square to give you a perfectly perpendicular cut. (O'Lipfa 3" x 18" Ruler, $12)
13. Thread. Although I sew mostly with white thread, there are tons of colors out there for you to use! This is nice if you need to do any top-stitching, and the thread will show on the outside of the project. You can either use a polyester thread or a cotton thread, depending on your project. I mostly use polyester because it is stronger and won't shrink in the wash. (Gutermann Sew-All Thread, $3.69)
And there you have it! Just arm yourself with the essential tools and you'll be ready to begin your journey into the exciting (and addicting) world of sewing!
Related Videos:
Disposing and Storing Sewing Needles
How to Prevent Sewing Thread Breakage
Get in touch! Leave a comment or email editor@nationalsewingcircle.com.