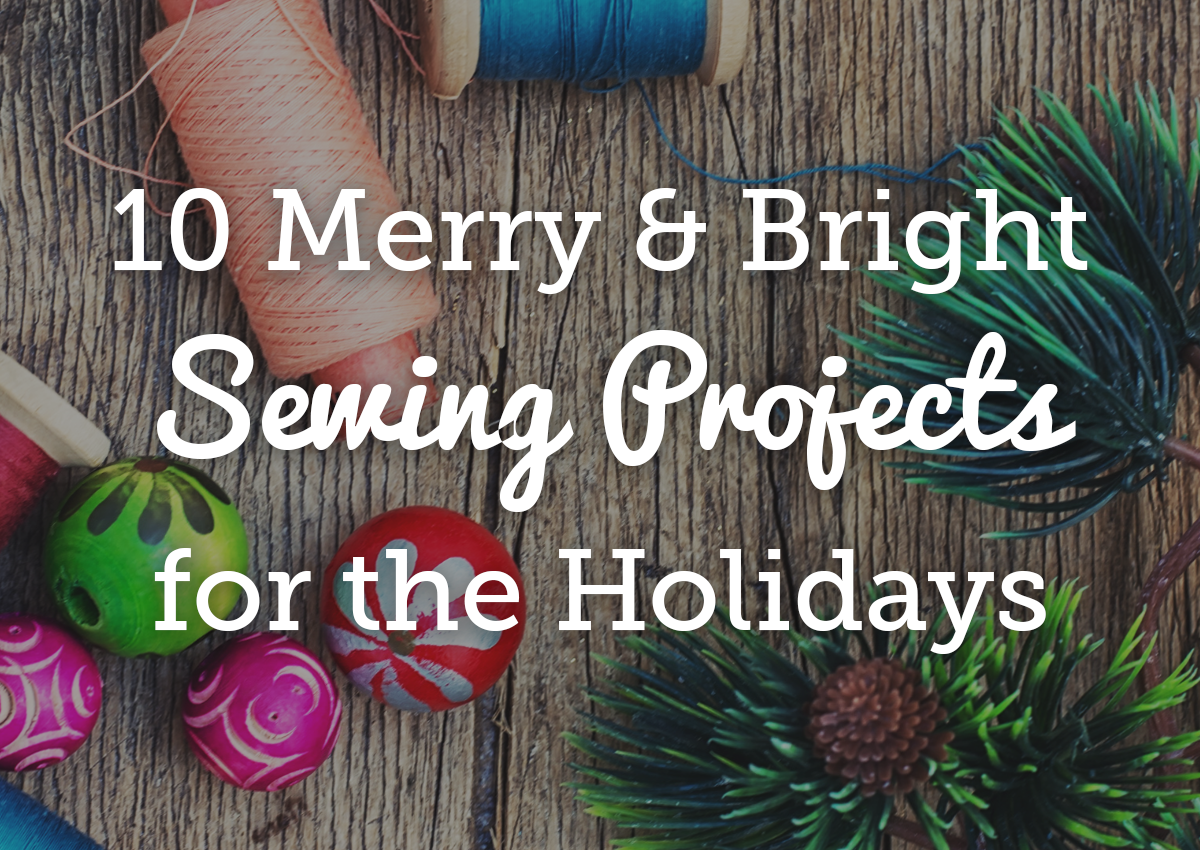 The holiday season is upon us! Every sewing machine and fabric store is ready for the busy weeks of festive decorating, present making, and last-minute alterations. That's why National Sewing Circle reached out to bloggers in the amazing online sewing community to see what they have created for the holidays. This gathering of great ideas is sure to give you inspiration for decorations around the house and a few stocking stuffers! Here are 10 of our favorite projects for the holidays. Tutorials are graciously provided by Homemade Heather, Fleece Fun, Flamingo Toes, Crazy Little Projects, Sew Different, Elea Lutz, Oh Yay Studios, Five Little Monsters, Alice and Lois, and Sew What Alicia.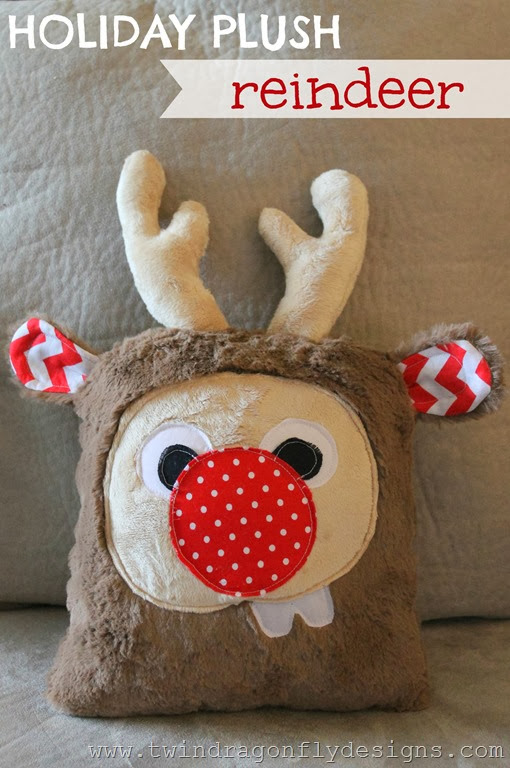 1. Holiday Plush Reindeer
Holiday pillows at the store are always expensive and never as personal as making your own! Here is an adorable reindeer pillow by Homemade Heather that everyone will want to cuddle with. Surprisingly, it isn't too difficult, and cute enough to be on the shelves of your nearest boutique! Find the tutorial here: Holiday Plush Reindeer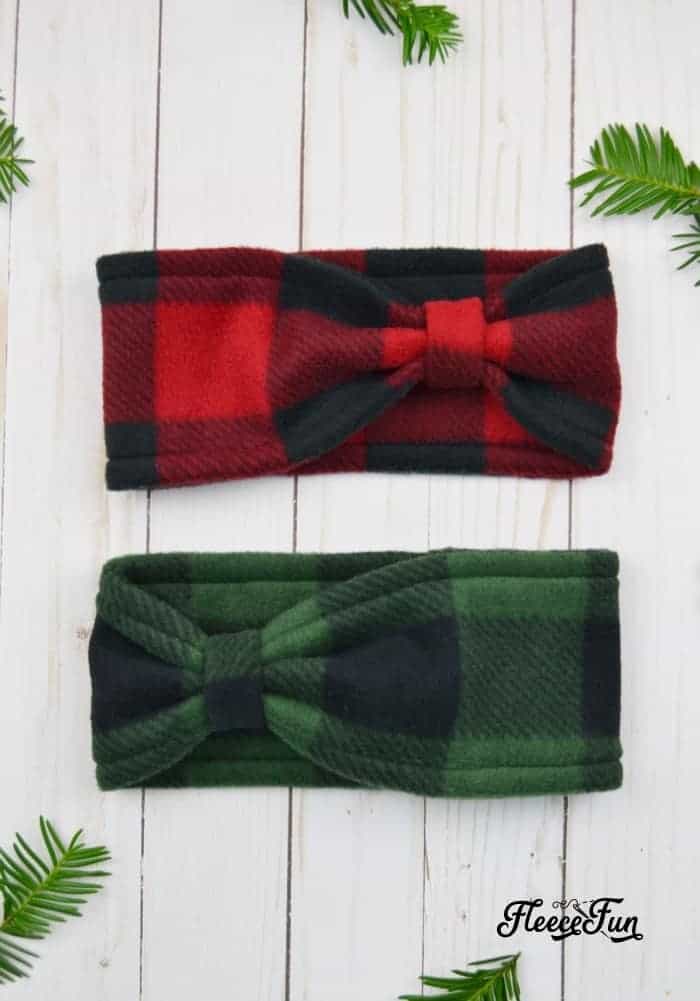 2. Fleece Ear Warmer Headband
This time of year brings chilly temperatures. So why not check a few people off your holiday gift list by making them these cute and easy ear warmers. They would be perfect for a holiday photo shoot as well! Cat gives a great tutorial on Fleece Fun, here: Fleece Ear Warmer Headband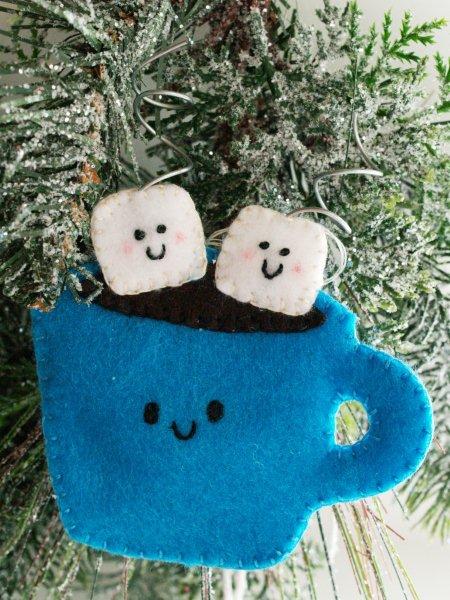 3. Hot Cocoa Ornament
This Cocoa ornament emits a warm and fuzzy feeling. It is a perfect view for when you're sitting next to the tree curled up with your own deliciously warm drink. Bev helps us with this adorable inspiration with a tutorial on her blog, Flamingo Toes. Find the tutorial here: Hot Cocoa Ornament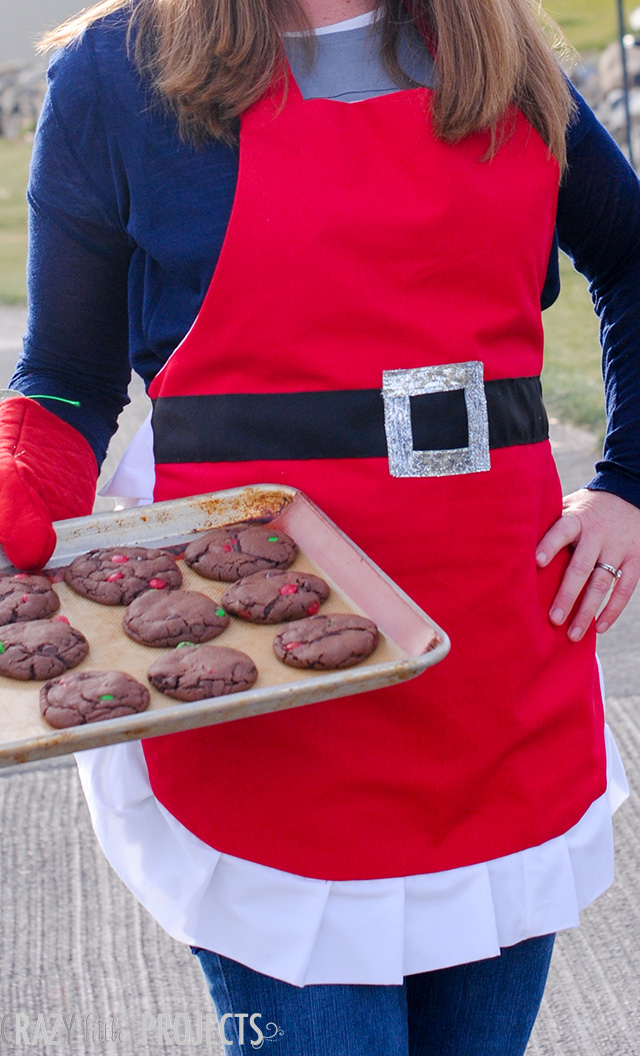 4. Cute Santa Apron
During the holidays, you wear many hats: the hostess, the entertainer, the cook and the baker. Luckily, you can wear this apron for all of those! This Santa apron by Amber at Crazy Little Projects will cheer up your kitchen while keeping you clean. Find the tutorial here: Cute Santa Apron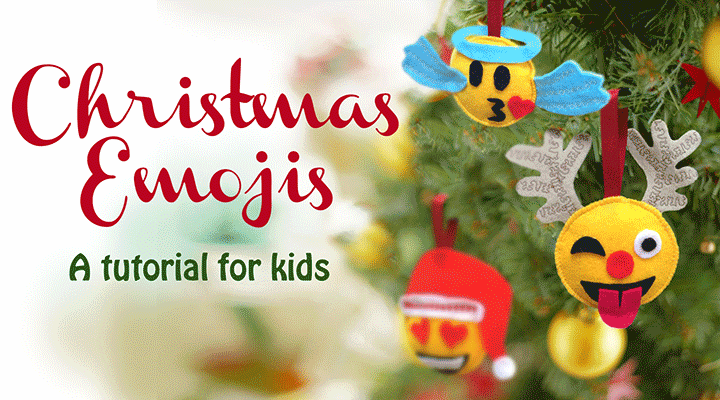 5. Emoji Ornaments
Keep your Christmas Tree current with on-trend emoji ornaments! These funny faces will be a hit at your holiday party and the kids will love them. Laura at Sew Different made them easy enough that you can make all your favorite, silly faces! Find the tutorial here: Emoji Ornaments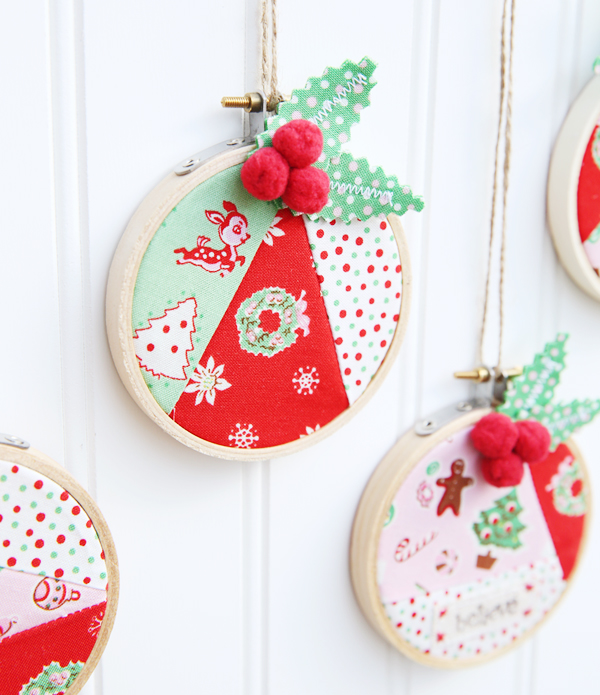 6. Little Joys Hoop Ornaments
After you have made several projects, what will you do with all the extra fabric laying around? Here is a fun use of the scraps that usually get thrown away. Easily decorate the house with this great idea by Elea Lutz on her personal blog. Find the tutorial here: Little Joys Scrap Holiday Ornament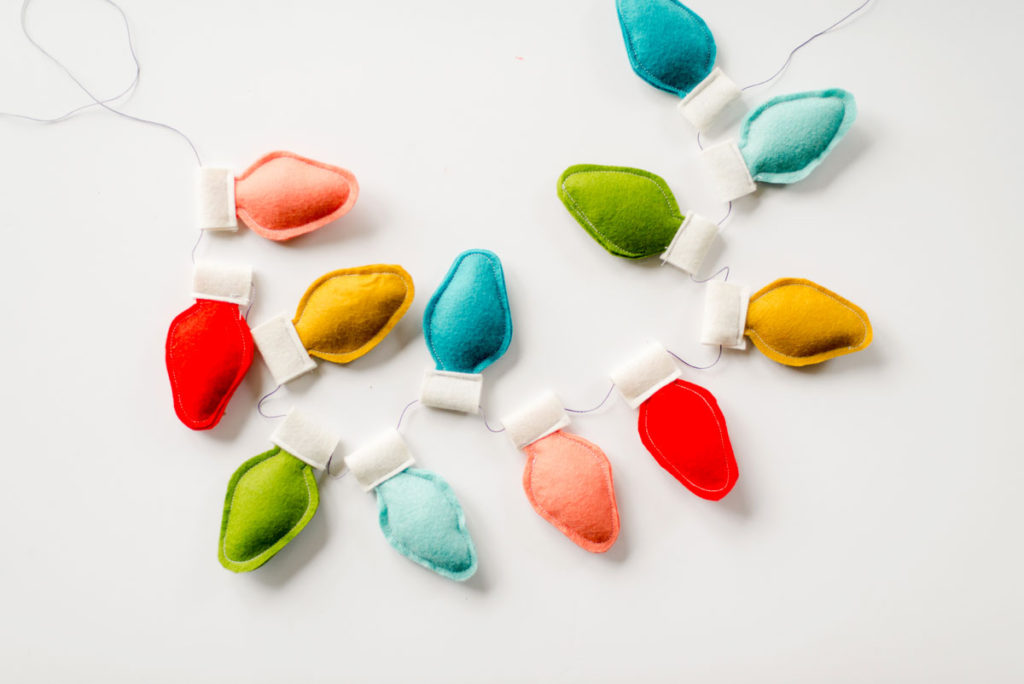 7. Felt Christmas Bulb Garland
Used up all your electrical outlets for decorations already? Make this bulb garland by Emily at Oh Yay Studios. They are so cute and don't need an extension cord to add life to the room! Find the tutorial here: Felt Christmas Bulb Garland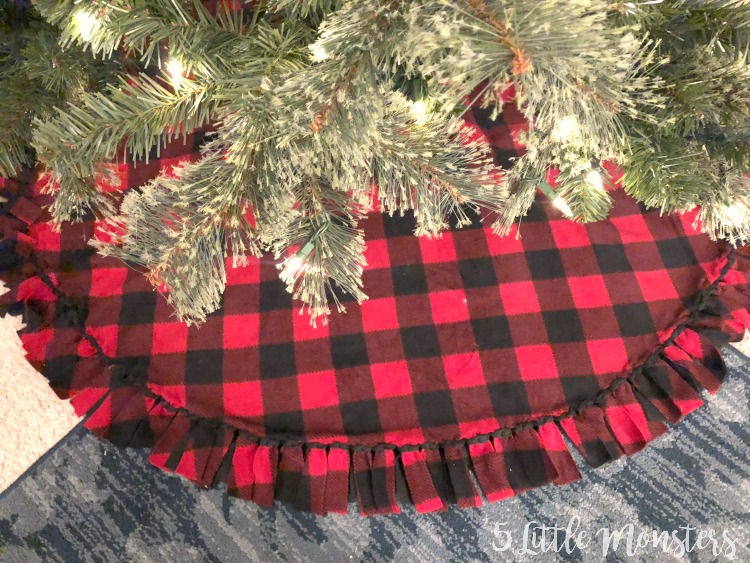 8. Felt Christmas Tree Skirt
Every tree needs a skirt and this easy pattern is perfect for presents and the occasional house pet to snuggle up under. Erica's Five Little Monsters love crawling under the tree to get a peek at the presents. Find the tutorial here: Felt Christmas Tree Skirt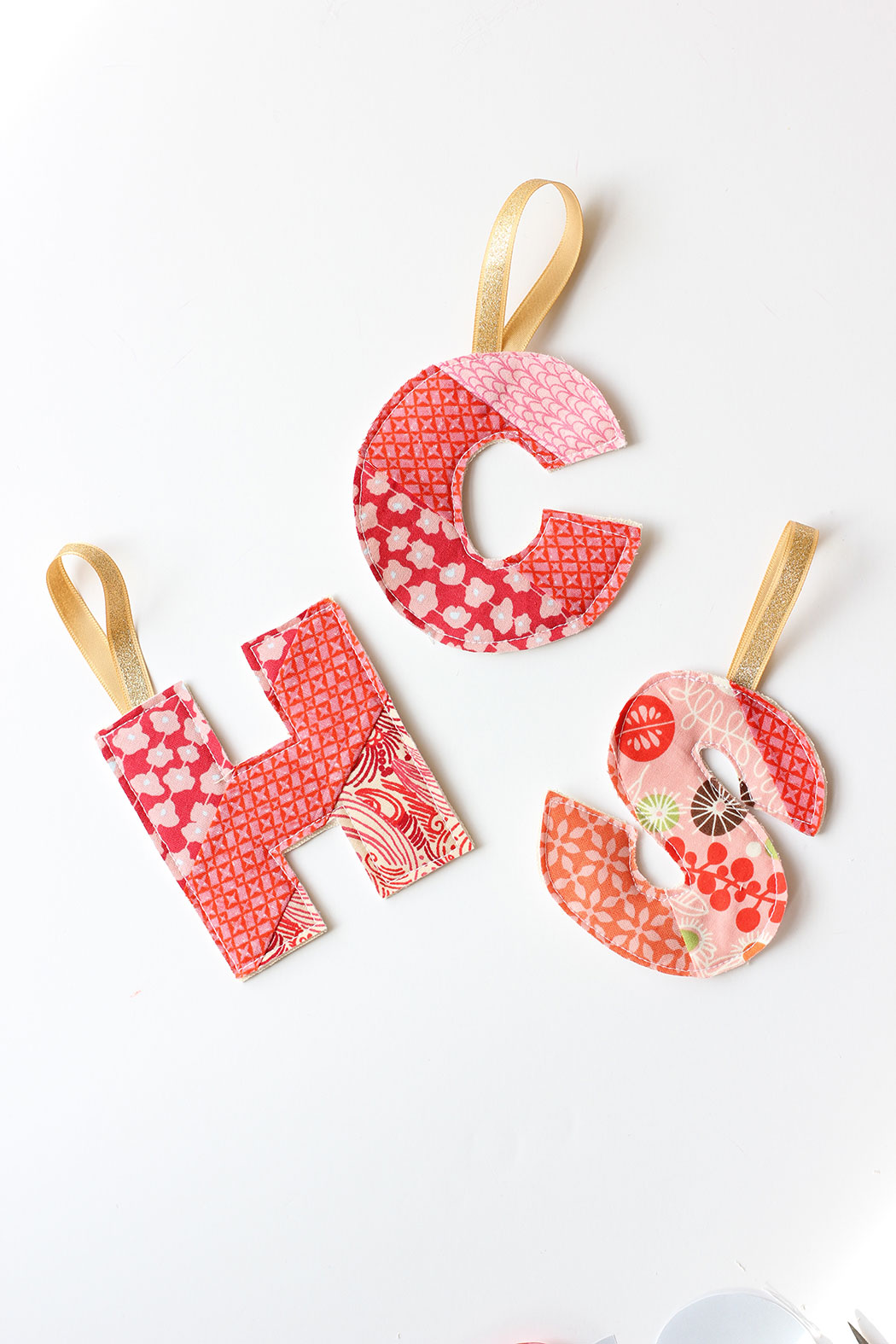 9. Initial Ornaments
Sara and Melissa have created a way for you to give personal gifts just for the holidays. Their tutorial for custom, fabric initial ornaments on their blog Alice and Lois is super cute. Gone are the days where you couldn't find your initial in the charm bracelets. Find the tutorial here: Fabric Initial Ornaments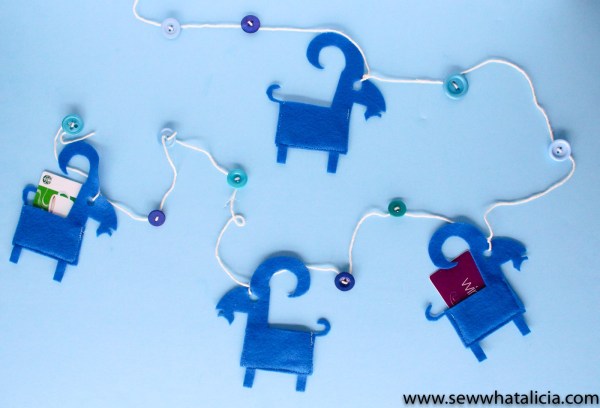 10. Gift Card Holder Garland
Find a fun way for your guests to receive their presents from Santa. This gift card holder garland by Alicia at Sew What Alicia, is perfect! It creates a big moment for even the smaller presents. Find the tutorial here: Gift Card Garland

What are some of your favorite projects to make this season? Whatever they are, we hope these ideas gave you inspiration for your Holiday projects. We wish you the best of luck with your sewing and happiest of times with friends and family this holiday season!
You might also be interested in:
8 Holiday Gifts You Can Sew in No Time – for Under $10
Sewing Handmade Christmas Ornaments
Sew Your Own Holiday Gift Bags
3 Simple Holiday Gifts for Guys
NSC LIVE! November 2018 Holiday Gift Ideas: Therapy Rice Pack Project
NSC LIVE! December 2018 Holiday Gift Ideas: Pillow Form Dog Bed Project