Have you ever come across a pattern that is just about perfect, but is missing the cherry on top? Like the elusive pocket – so many great garment patterns could be 100% perfect with a pocket or two added in.
Well, luckily the great thing about patterns is that you don't have to follow them at all! In this case, we found a great silhouette in an A-Line skirt, but instead of hunting around for the perfect pattern with all of the options in it – such as pockets – you can simply do a quick edit to add what you want!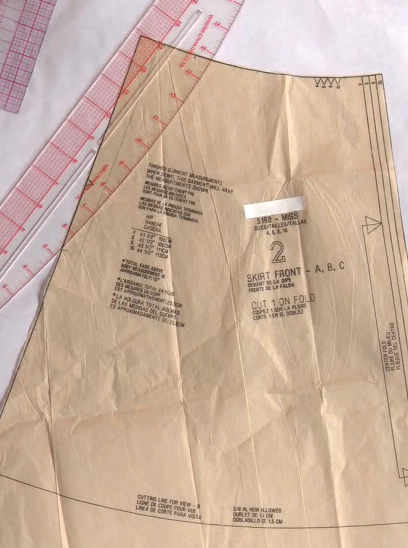 An easy way to add a pocket is through a side seam, because it doesn't really add any bulk to the beauty of the skirt. Bonus: it's not an exact science so there's lots of room to play and experiment.
In this video, you can see that Stephanie Ohnmacht makes adjustments as she goes along: She places her hand to make sure it will fit, she adjusts the placement of the pocket based on seam allowance, and in general, goes with her gut and makes changes until she likes the look and feel.
To personalize a slant pocket, try adding a piping accent! This is an incredibly fun approach, especially if you are using the same fabric for both the exterior and the pocket. Using pre-packaged bias tape as your piping is an easy way to add accent without creating your own piping. I love shortcuts!
And remember, a slant pocket can be added into any skirt or dress as long as there is a seam at the waist. For shift dresses where there is not a separate bodice, you'll need to be more creative, such as stitching a pocket into the side seam or topstitching a patch pocket right to the top. Any route you choose, adding pockets to a skirt or dress is extremely trendy, and ensures that you will never lose your dance card!
Happy sewing!
Get in touch! Leave a comment or email editor@nationalsewingcircle.com.