Now that we're a few weeks into our Oh Sew Fun Sewing Challenge it's time to tackle a project that's a little bigger and a bit more challenging – a canvas tote bag! This fully customizable tote can be as easy or as difficult as you want to make it when it comes to embellishing it. In this week's challenge you'll learn how to construct the bag as well as how to make it your own with applique.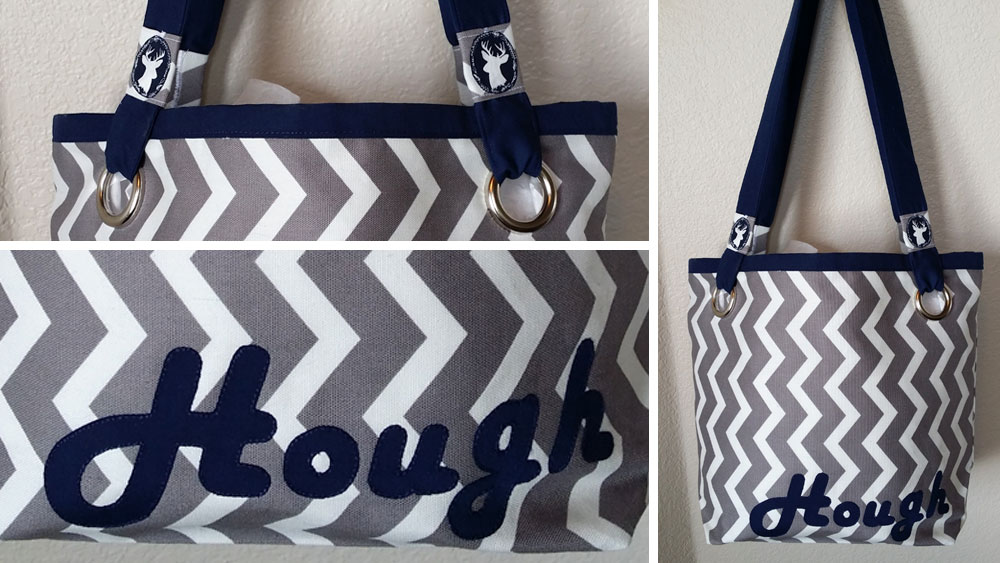 For my bag I chose to applique my last name on the bag rather than a letter, though you can do whatever you choose. To do this I simply found a font that I liked on my computer, printed my name in a size that I thought looked good across the bottom of the bag, and then added it following the same steps as in the tutorial. I also customized it a few steps further by adding a pocket on the back, more pockets in the lining and attaching my handles with grommets. Being able to make additions and changes like this is one of my favorite parts of this project. Once you learn the basics of how to make this bag you can change it up and make dozens of them with no two alike!
A Quick Tip on Needles
If you're new to sewing and have never worked with canvas before, don't be afraid. It's actually very easy to work with. The one new item you may need to purchase however is a heavier needle. This can be either a heavy duty needle or a jeans needle, just something a step or two up from your standard universal needle. While you may find that you can still sew through the canvas with a lighter weight needle, you will dull your needle faster and then just have to replace it sooner as we work through the rest of the projects in the challenge.
Once you're finished with your tote this week, make sure to share a photo with us in the Facebook group. I can't wait to see what you all come up with!
– Ashley
If you haven't yet already, make sure to officially join the challenge so you can get each week's project delivered right to you inbox.

Ready for the next project? Here's what's coming up next:
Fabric Embellished Greeting Cards