We all have unique experiences when we're sewing and we often find ourselves feeling certain emotions as we work. Each day is different and we sew for many different reasons, but most of us can agree that sewing brings out the best in us and makes us feel amazing!
We asked our team of instructors to share some thoughts about how sewing impacts their lives and influences their emotions. What about you? Let us know how sewing makes you feel in the comments.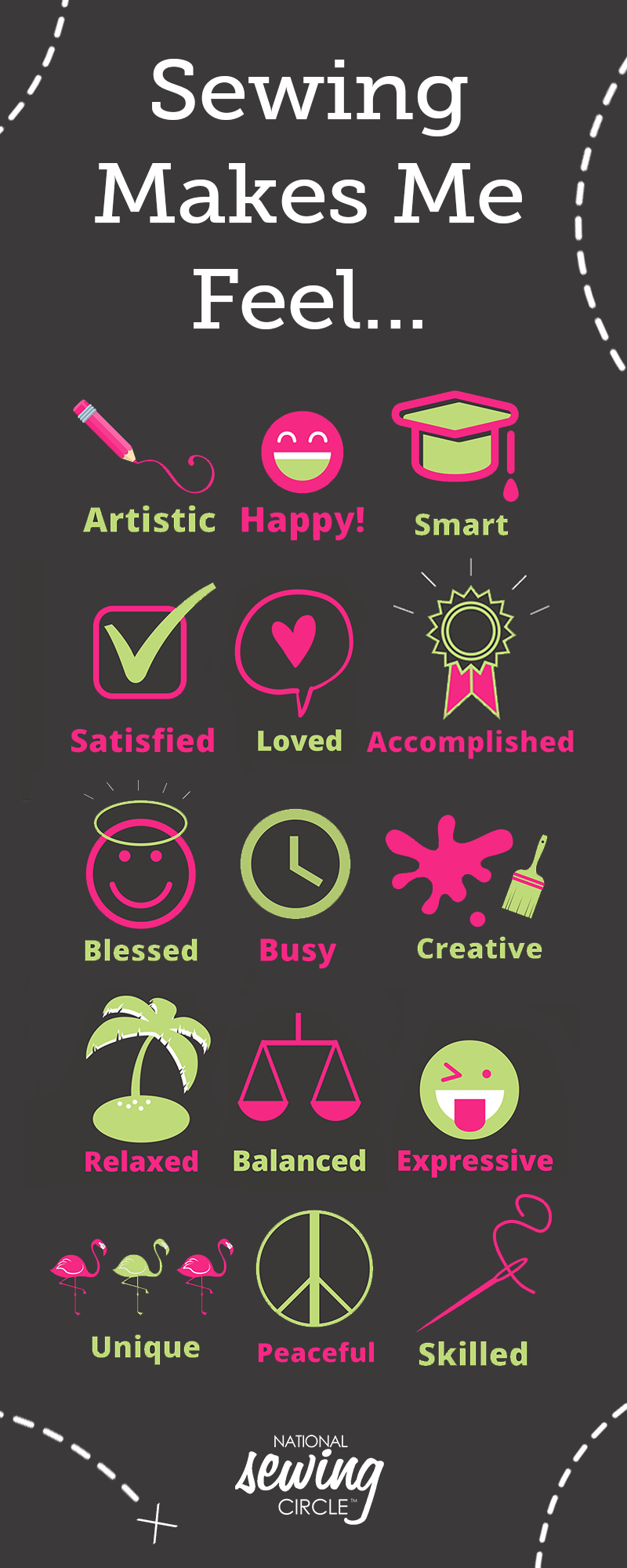 "One of the best things about knowing how to sew is the ability to be creative. Once you know the basics of how to sew pieces of fabric together the possibilities are endless! I love being able to make and design my own patterns as well as just being able to make up a project as I go. Knowing how to read a pattern is great, but being able to make something original based on an idea is one of the best ways to feel and be creative!
Whether you have just finished your first sewing project or your hundredth – there is no better feeling of accomplishment! My favorite feeling of accomplishment when it comes to sewing is when I have made a garment and I get a compliment from a stranger. Especially if it is something that I have never made before or maybe something I tried a new technique on. Knowing that others like or appreciate what I have made is a great sense of accomplishment."
– Ashley Hough
"Whenever I sew I'm constantly remembering the lessons my grandmother gave me. It's like she's there with me passing on her knowledge. She's laughing at my mistakes and helping me pin the fabric just right. Sewing brings about many different feelings for me; it stirs my creativity, it makes me feel capable, but most of all it reminds me of my grandmother. This is why it's one of my favorite hobbies."
– Jessica Giardino
"Each day begins at 5:30am, with a quick walk to wake up. Next it's feeding the animals, packing the lunches, running for the train! I find myself fighting through the downtown crowd, speed walking in my hot pink running shoes, weaving my way through the mass of cubicles to my little desk. Now for a whole day of answering the phones, putting out fires, yacking on conference calls, and skipping lunch. Finally, it's time to leave and I'm fighting the crowd back to the train to get home yet again. Afternoon chores, dinner made, laundry done. BIG BREATH. It's time to sew! 
Once I have sat down at my sewing machine, the entire memory of the day (and the responsibilities of tomorrow) for some reason, never even cross my mind. There is something about making things with your own two hands that really makes you LIVE IN THE MOMENT. Not yesterday, not tomorrow, just RIGHT NOW. There is just the soft fabric under my fingers, the hum of the machine, and the rhythm of the needle. Without a thought in my head (aside from watching my seal allowance) I let the relaxation and healing begin!"
– Aurora Sisneros
How does sewing make you feel? Happy? Relaxed? Accomplished? Leave a comment below and share what you feel when you sit down at the machine!