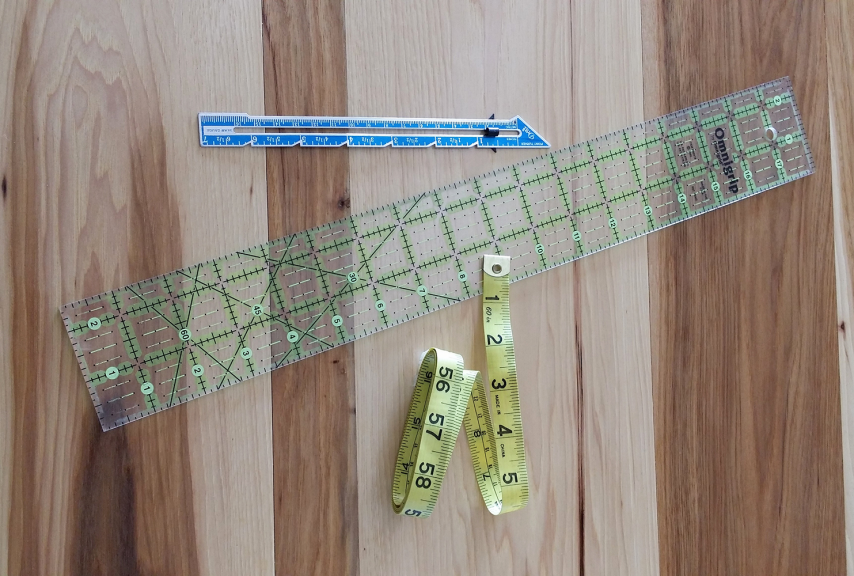 Whether you quilt, construct garments, or sew projects for the home, at some point you're bound to need to take some measurements. Using the right tool for the job will help ensure accurate measurements on any project.
Quilting Rulers
When it comes to quilting, there are many different shapes and sizes of rulers to pick from. No matter which size you choose, there are several things to look for in a ruler that can make measuring and marking easier. Clear acrylic rulers allow you to easily see your fabric through the ruler and make accurate marks. Clear quilting rulers also have both grid and hash lines. The hash lines typically mark 1/8" increments, while the grid lines mark 1" squares. Many quilting rulers will also have 30, 45, and 60 degree angle lines for easily marking angles on your fabric.
Measuring Tapes
If you construct garments, you know that rulers of any kind aren't going to work when it comes to taking body measurements. Standard measuring tapes can be found at many craft and big box stores, however you need to ensure the tape is fiber glass and won't stretch. Even the slightest give in a measuring tape can distort your measurements and the overall finished size of a garment.
QUICK TIP: Use a fiber glass measuring tape to avoid stretching and distorted measurements!
Hem Guages
For finishing garments as well as some home décor projects, it can be handy to have a hem gauge. Hem gauges are small rulers, typically no longer than 6 to 7" that allow you to quickly and accurately measure a hem. Some hem gauges will also have a slide that you can align at a specific hem width, ensuring that a hem is the same size all along a garment or home décor edge.
If you are new to sewing or quilting and are unsure what kind of measuring tools to buy, having at least one ruler, measuring tape, and hem gauge is a great place to start. As you progress, you may find it useful to have many different sizes and shapes of quilting rulers and even special rulers meant for drafting garment patterns.
Curious about other essential sewing tools? Check out these articles:
All About Cutting Mats
Why You Need a Rotary Cutter
The Ins and Outs of Bias Tape
Have something to add? Leave a comment or email editor@nationalsewingcircle.com.