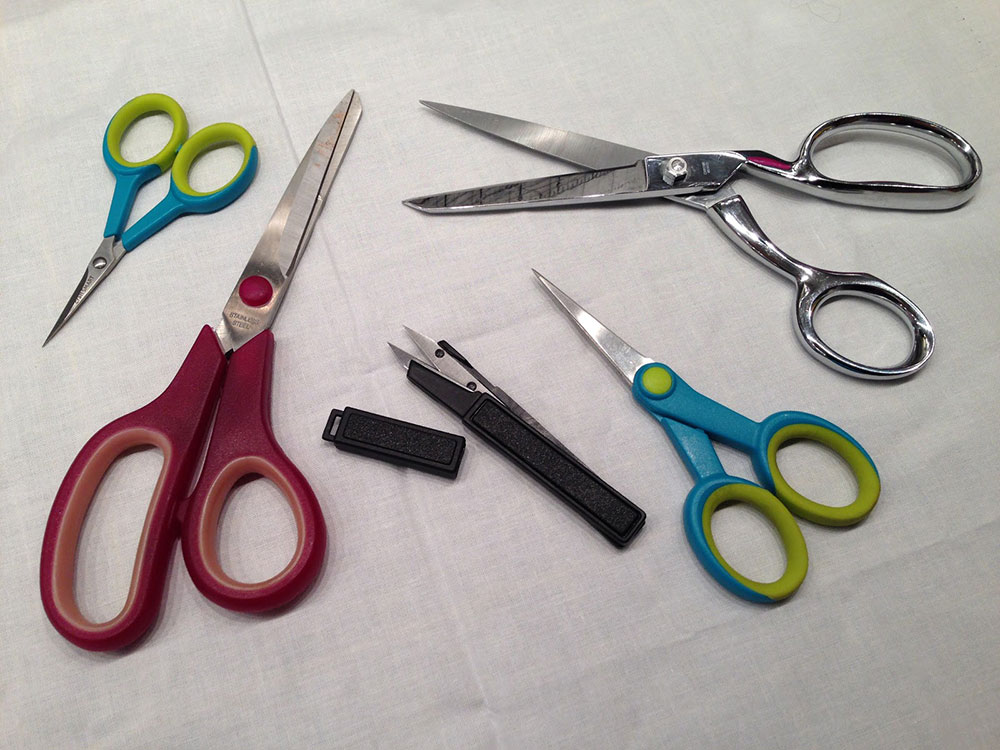 When I first started sewing, I bought an inexpensive, colorful set that had three pairs of plastic-handled scissors in different sizes and a bonus pair of thread snips. I hated them immediately. They just weren't very sharp or comfortable and the thread snips just would not cut thread easily. Then, I started taking sewing classes at a local quilt shop and I lusted after the quality metal dress shears provided in class. It wasn't long before I broke down and invested in a pair for home; I haven't regretted it since. That cheap plastic pair became my paper scissors and the smaller sizes are handy for making tiny controlled cuts – so that set wasn't a total waste of money.

Related Video: Choose the Right Sewing Scissors
Keeping Your Sewing Scissors Like New
You never want to use your good fabric scissors to cut anything other than fabric. Make sure that your entire household knows this rule too (and that they will be paying for sharpening or replacements if they break it!). One nice thing about the quality metal scissors is if they do get misused or just dull from lots of use, they can be sharpened (usually for around ten bucks at your local sewing machine shop or knife shop).
How to Use Scissors Effectively
When cutting, don't put a death grip on your scissors. This will save your hand some pain. I also find that keeping my pointer finger out and loose instead of in one of the handles helps reduce hand fatigue. If you have a hard time cutting a straight line, place the tips of the scissors on the table or cutting mat while you cut. When cutting a long piece, make almost full cuts but stop before the tips come completely together.

Related Video: How to Hold Scissors to Reduce Hand Fatigue
Which Thread Snips to Use
When it comes to thread snips, I prefer the type with spring action that returns them to an open position over a pair of small scissors. If you get the kind that has a thumb hole, here's an odd but useful tip: Don't put your thumb in the hole. They work much better if you instead hold them more like a pair of tweezers. Use the thumb hole to hang them somewhere near your machine, or around your neck, so they are always nearby and easy to find.

For more helpful tips on essential sewing tools, check out these articles:

Must-Haves: Measuring Tapes and Rulers The Ins and Outs of Bias Tape All About Cutting Mats Why You Need a Rotary Cutter
Have something to add? Leave a comment or email editor@nationalsewingcircle.com.